GVP in Israel & Jordan 2018
For the third time the students of GVP travelled to the exotic land of Israel, but this time with a small twist. Not only did we visit the Holy Land but we also ventured into the remarkable country of Jordan. We saw many spectacular places and holy sites alike. It is impossible to summarize it in a few words, so lets dive together into a detailed tale of our adventure.
15.03.2018 - Autor: Erika Musílková - Komentáře: 0
 Our journey began on the 23rd of February, when our group of more than fifty people met in Václav Havel Airport with our teachers: Mr. B, Mr. Fajfr, Ms. Kinclová and Mr. Mervínský. It is worth mentioning we had to be at the meeting point at 3:50 a.m., which meant everyone was yawning or half-asleep during the take off for Tel Aviv.
After the strict passport control at the Israeli airport, our beloved bus driver, Mustafa, was already waiting for us accompanied by our tour guide Dani, who surprised us with his fluent Czech even though he had never lived in the Czech Republic.
Our bus promptly headed for Jerusalem, the heart of Israel. Our very first stop was Machane Yehuda Market, where we very quickly got to know the tricks of bargaining and many of us tasted typical dishes such as falafel and shawarma. (And I can assure you this was definitely not the last time we ate it during our stay!)
Later that day, before we checked-in at The Post Hostel in the city center where we were about to stay for the four upcoming nights, we visited the panoramic lookout at the Mount of Olives and walked all the way down the hill. But the most touching experience of that first day was being at the Western Wall and seeing hundreds of Jews praying, singing and celebrating the evening of Shabbat.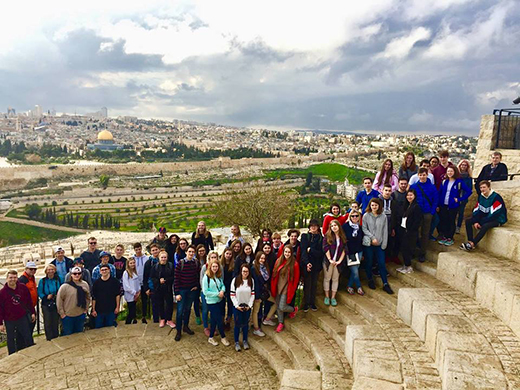 The next day we departed from our accommodation early in the morning to visit two holy sites where it is believed Jesus had been buried – the Church of the Holy Sepulcher and the Garden Tomb. After that, we returned to the hostel for our well deserved breakfast. During the afternoon we enjoyed the beautiful view from atop the great walls of Jerusalem and after visiting the Church of Dormition, we made our way to the Israel Museum. What we found there were many artifacts from the history of Israel and treasures plundered by foreign lands. After seeing a model of Jerusalem during the 2nd Temple period, we parted ways so that everybody could visit the place of their own interest. That evening, as many others, we spent playing a game called Werewolves with Mr. Fajfr, which formed an integral part of our trip.
The next morning we left the hostel unusually equipped with towels and crocs for an adventurous walk through Hezekiah's and Western Wall Tunnels. Despite the fact we were told the water level wouldn't be higher than our knees, it almost reached our waists but it was rather refreshing than bothering. After lunch we went to a different kind of museum than yesterday. It was the Yad Vashem Holocaust Remembrance Center where we commemorated and honoured the victims of the WWII holocaust. It was incredibly moving to learn more about the atrocities of the nazi regime. That evening was accompanied by a Jam Session, in which we passionately took part in.
Unfortunately, the following day, the desert had a very rare rainfall which caused the path up the mountain fortress of Masada to be dangerously slippery. Therefore, we were forced to get to the top of the fortress by cable car instead of the previously planned hike up the mountain. At the top, we gazed upon the desert surrounding us and observed the Dead Sea from a distance where we stopped by later that day. The next place on our schedule was En Gedi, a national park significant for its picturesque waterfalls which many of us found convenient for swimming. When we finally arrived at the Dead Sea shore, we experienced first-hand what it feels like not to swim but float on the sea surface. Everyone covered themselves in mud, lots of mud, and posed for Mr. B who took pictures.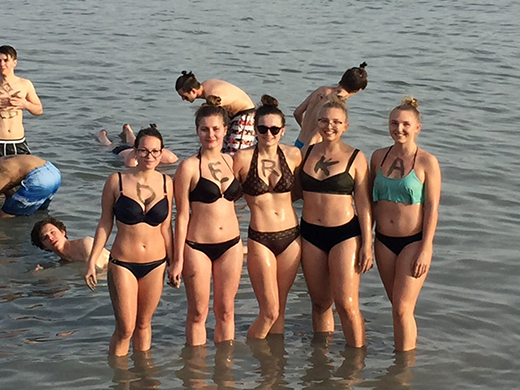 On the fifth day of our trip we said farewell to the Post Hostel and hit the road heading for Nazareth. On the way, we visited the ancient coastal Roman port of Caesarea with its monumental theatre and strolled alongside the beach. When we finished our due prayers in the Acre Mosque, Mustafa drove our large group to the foot of Mount Tabor, which we successfully managed to climb up in less than an hour. As a reward we got to enter the Church of the Transfiguration on the very top of the hill. Finally at the end of the day we checked-in at St. Gabriel Hotel in Nazareth. After dinner many students visited the Basilica of the Annunciation.
Getting up early as always, the next day we were lucky to see the beauty of Israeli nature in Banias National Park despite some difficulties caused by the worsened health condition of one of our co-travellers who we had to leave in hospital with Mr. Fajfr. The rest of the day went smoothly. Amiad Kibbutz gave us a whole new worldview by showing us an entirely different way of living. For everyone, the most emotional place to visit was the military base situated in the Golan Heights, from where we literally heard bombing from a Syrian town nearby.

Thursday started with a marvelous bath in Gan HaShlosha hot springs where we even got a free swim with fishes although not everybody fully appreciated their unwanted attention. Soon after we unwillingly left the Israeli border behind to discover the unknown land of Jordan. Our new tour guide, Pavla, was already awaiting us, and on the way to Jerash, was enthusiastically telling us about Jordanian history and culture. Jerash was stunning with its massive columns which witnessed ancient Roman times, but soon we got tired after the long day and tedious border crossing. That is why we were happy to find out that our hotel in Amman had a swimming pool with a hot tub. Many of us took the opportunity and went to the sauna as well.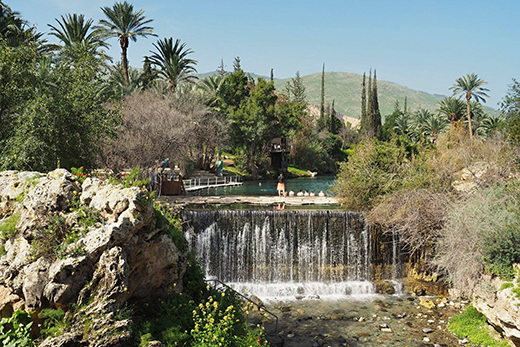 Naturally we left this luxurious hotel heavy-hearted but thanks to the upcoming exciting day, we had many more experiences to absorb. First we visited the town of Madaba where we had the chance to see the well-preserved mosaic map on the floor of St George's Church. The rest of the day was spent in Dana Biosphere Nature Reserve, where we took a hike in the beautiful rocky wilderness while admiring its unique flora and fauna. Everybody was surprised by Mr. B participating in the hike as well, and even though he was freaking out a bit in the beginning, he managed to bravely finish the trip without any harm. We stayed in the Dana national park for the night in little stone houses that were the exact opposite of our previous accommodation in the Al-Fanar Palace Hotel in Amman. We survived a night without central heating and a few of us even got up early in order to photoshoot the local nature.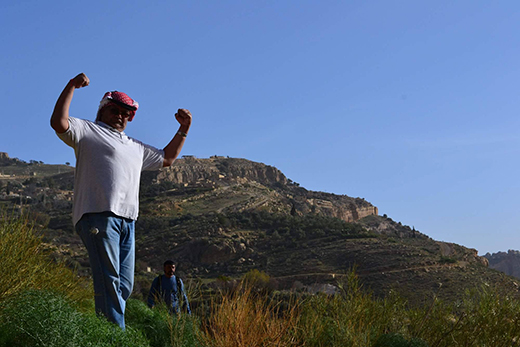 The schedule for Saturday was simple but remarkable - visiting Petra, one of the Seven New Wonders of the World and a UNESCO world heritage site. We were truly amazed by the massive architecture and ingenious complex tombs carved into the rock and water channels. The area was so enormous, that the free time of more than three hours that we were given was desperately short. We could have easily spent twice as much time there. Full of great memories, we got on the bus and drove to the Wadi Rum Captain's Main Desert Camp, where we stayed in luxurious Bedouin tents. The desert camp was astonishingly authentic indeed! We couldn't get enough of its atmosphere. We joined the local bedouins' evening dance and watched the sunset from a rocky hill above our tents.

Bedouin hospitality continued in the morning as well. After a delicious breakfast, a jeep tour in Wadi Rum desert was incoming. The combination of the crazy jeep ride and the quiet desert left us breathless and after two hours of adventure, half of us nearly decided to buy ourselves a jeep. Before leaving the camp, 8 students took part in a 1 hour camel ride through the desert. The rest of the day was spent going through the routine border crossing and finally checking in at our last hostel in Tel Aviv. We nostalgically spent the last evening of our trip in the city center and then packed all of our belongings and memories before going to bed.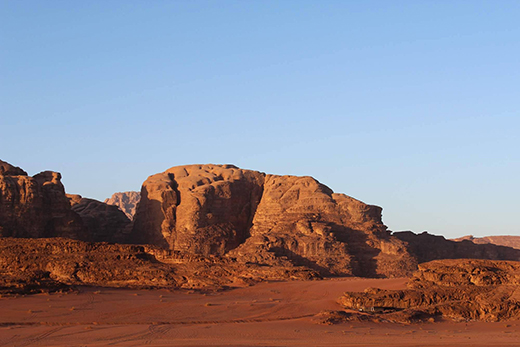 We woke up in a hurry and next thing we knew, we were landing in Prague. We were greeted by our loved ones and said goodbye to the amazing teachers who made one of our dreams come true. Special thanks goes to Mr. B and Marek Fajfr who arranged this spectacular journey to the Near East and successfully managed to keep together the large group of 45 students. Last but not least, we would like to express our gratitude to Ms. Kinclová, who treated us kindly as if we were her age, and to Mr. Mervínský for the small historical lessons he gave us throughout the trip. Thank you… and say: Israel & Jordan, baby!!!
Autor: Erika Musílková
---
---
Vyhledávání
Poslední články
Akce a dění
POPRASK volejbal
Prosím hráče a hráčky volejbalu o schůzku v pondělí 23.9. 2019 v 9.40 hod. u kab.č. 123. Hrací den - kluci ut 24.9. 2019 a dívky st 25.9. 2019 od 8.00 na Meteoru. Prosím domluvení nominace hráček s Alenou Novotnou 6.A a Lindou Kulišovou 6.B. Případně se uvidíme až na schůzce. Kluky povedou do boje zkušení hráči ze 4.E Šimon Odvárko a Sebastián Toplak. Děkuji moc P.E.
Holandština
První hodina holandštiny (nizozemštiny) na škole proběhne ve středu 25. září od osmé hodiny v učebně 102. Prosím ještě ty, kdo se chtějí přidat do Klubu nizozemštiny, aby mi napsali na jun@gvp.cz. Budu se těšit, JJ.
Florbalový projekt KB FLORBAL CHALLENGE 2019/2020
Prosím hráče florbalu narozené od 1.1.2002 do 31.12.2004, kteří chtějí reprezentovat školu, aby mne kontaktovali. Sestavuji team na KB FLORBAL CHALLENGE. GVP je zaregistrována. Zdravím, děkuji a těším se na vás. P.E.
Keramika
Studenti se zájmem o keramiku se sejdou na první schůzce 4.10.2019 ve 14:40 hod. před keramickou dílnou v přízemí školy vedle VV. Na všechny zájemce se těší P.E.
KMD
Přihlášky do KMD budu vybírat již jen 9.9., 11.9. a přidávám poslední den 12.9.2019! Přijďte s vyplněnou přihláškou a s penězi do kab.208. Představení na říjen si vyberete osobně u mne v kab.č.208. Přijďte i vy, kteří jste již zaplatili. N.Brousilová
Knihovna bude uzavřená!
Příští týden je knihovna uzavřena. Knihy lze pouze vracet. Otevřeno bude až 13.9. od rána. Knihovník.
Missing Power Plug For Laptop
I lost a laptop power plug yesterday. Last seen at my desk in room 207. Other possible locations are rooms 105, 203, 214. ---------------------------- Včera jsem ztratil napájecí kabel notebooku. Naposledy viděl u mého stolu v učebně 207. Další možná umístění jsou místnosti 105, 203, 214.
Maturitní zkoušky
Rozvrh podzimních maturitních zkoušek 3.9. a 4.9.2019
Komisionální zkoušky srpen 2019
Rozpis komisionálních zkoušek v srpnu 2019 je v následujícím odkazu. Rozpis může být ještě v průběhu srpna aktualizován.