Israel and Jordan 2020
The trip to Israel and Jordan was simply unforgettable and I will tell you all about it. But first, it is absolutely necessary to thank everyone who made it possible for us to get home safely.
Jose Babiera, who worked incredibly hard on getting us to pass the border and get home and who under such stress remained looking calm (he definitely was not).
Gedi Hampe, who brought the Ministry of health, tourism and foreign affairs and the office of the Prime minister together, which led to our passage through Israel.
Gadi Dahan, our Israeli tour guide. Not only a wonderful guide, but he also helped us get through Israel on our way back home.
David Herzky, the Honorary Consul of the Czech Republic, who worked with the Czech Embassy to get us through the border.
Assaf Dovrat, the manager of the Czech-Israel Chamber of commerce, who got the Czech Embassy involved in our case.
And finally, Marketa from the Czech Embassy, who got us permission from Israel for us to cross the Jordanian border.
There is also a huge thank you to all our accompanying teachers who came with us on our trip: Mr. Fajfr, Mrs. Hašková and Mr. Mervínský.
14.03.2020 - Autor: Alice Suchánková - Komentáře: 0
Now let's get to our trip.
On Thursday, February the 27th at 8 p.m. all of us met at the airport. We went through questioning and security and with an hour delay we took off for Tel Aviv. After landing, however, one of our friends wasn't allowed to enter Israel and we had to start our adventure with an empty place in our bus.
Our first stop was at Bethlehem. We arrived at about 7 a.m. and therefore enjoyed the place without any other tourists. We obviously had no idea that this particular visit would cause many complications on our way back home. All we knew was that we were hungry and tired. Both things were quickly solved by an all-you-can-eat breakfast (we may have drunk way too much coffee).
Since Bethlehem is in Palestine, we had to cross the "border" to Israel. Two people with machine guns walked into our bus. We were all shocked - but who wouldn't. Imagine being half-asleep and suddenly seeing someone walking past with a weapon. Not pleasant, let me tell you.
Anyways, we went to the Yad Vashem Holocaust Memorial. We spent a couple hours there and were all quite moved by what we saw.
Next stop was lunch at the Machane Yehuda market, where we had our first (and definitely not our last) falafel. Later that day we went to the Mount of Olives, to the Church of All Nations, to the tomb of Mary, walked along Via Dolorosa and finally we went to the Western Wall, where we celebrated Shabbat.
Early the next morning we went to the Church of the Holy Sepulchre. We stayed for about an hour, saw Golgotha and Jesus Christ's tomb. After breakfast we went to the Garden Tomb and then to the Notre Dame Institute of Jerusalem. There Mr.B told us the story of the Shroud of Turin.
After lunch by the Jaffa gate we went to the Tower of David Museum, where we returned after dinner to enjoy a light show.
We spent the rainy morning of the third day at the Temple Mount. Luckily, the sky cleared up soon and when we got to the Hurva synagogue, we were able to enjoy a beautiful view of Jerusalem. We also met a scribe, which was quite cool. Our beloved tour guide, Gadi, also answered all of our questions about Jews. Then, after lunch, we walked for about an hour to get to the Israel Museum. We only got about two hours there, but we found out it was enough. Some of us even managed to get a cup of coffee or two.
When we got back to the Old City of Jerusalem, we had a tour of the tunnels under the Western Wall. Our guide was super cool and funny and it was a great experience.
Since this was our last day in Jerusalem, we held a small Jam Session back at our hostel. Our friends played for us and Mr.B and Mr. Fajfr even sang.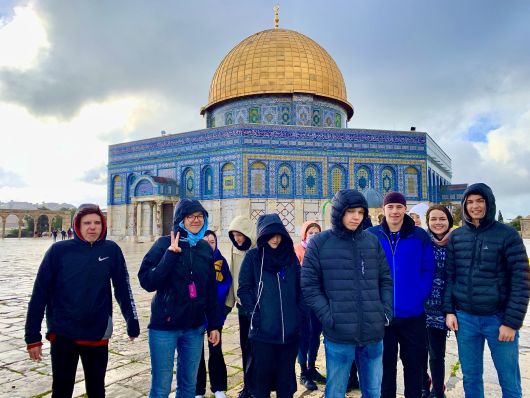 On Monday we finally met the famous driver of these trips, Mustafa. We went to Masada. Actually, we had to take a hike to get to the ruins. It was so worth it though. It was gorgeous. Then we went to Ein Gedi and enjoyed another small hike to a little waterfall.
Next stop was the Dead sea. We were all very excited to go float in the water. It was (obviously) super salty, so we had to be careful not to get any into our eyes.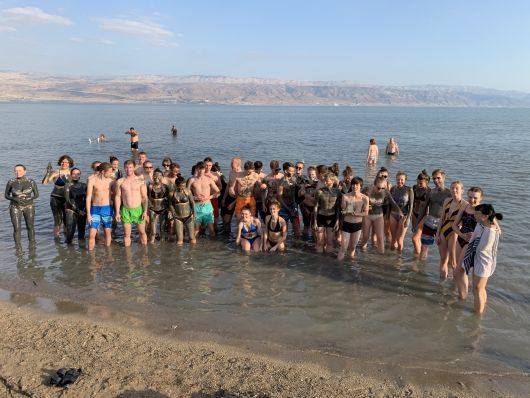 The fifth day was all about the Crusaders. We started our day in Caesarea. After hearing a lot about its history (and getting ice cream) we drove to Haifa to see the Baha'i Gardens. Next, it was time to go see Rosh HaNikra. It was spectacular. We even saw Lebanon! We stayed at the coast for a bit before going to Acre for lunch. After that, we went into the Al-Jazzar mosque and then to the Hospitaller fortress. We walked through the templar tunnels to get out and after a nice walk around the city were on our way to the El Mul Golan Kibbutz, where we would stay for the next three nights.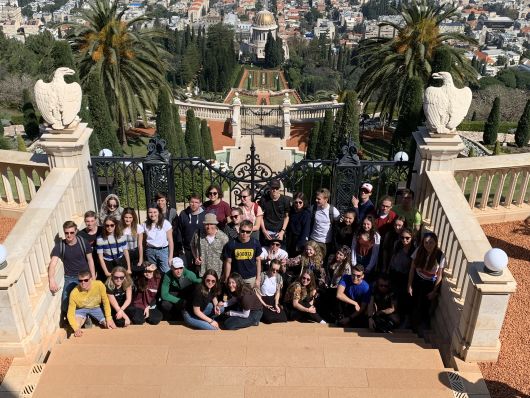 Wednesday started on a very positive note. Remember our friend who wasn't able to enter Israel? He rejoined our group! We were all very happy. Even happier, considering the fact that our day was about to start with a wonderful swim in Gan HaShlosha. It was peaceful there and little fish would bite on our feet (that wasn't so peaceful). Next, we went for another hike, this time to Mount Tabor. We saw the Church of Transfiguration and then drove to Nazareth for lunch and to see the Basilica of the Annunciation. Later we were also given a tour of the kibbutz we were staying at.
Thursday was our last full day in Israel. We first went for a nice hike to the Banias Waterfall. After taking group picture n.1469675 (and getting our shoes all muddy) we headed to the Golan Heights to see the border with Syria. It was a sunny day and we even managed to see the outskirts of Damascus. We went to get another falafel for lunch and then returned to the Golan Heights to look at a couple of tanks. Our next to the last stop that day was in Capernaum. We peacefully finished the day at the Church of the Beatitudes and when we got back to the kibbutz, we celebrated one of our friend's 18th birthday by the pool.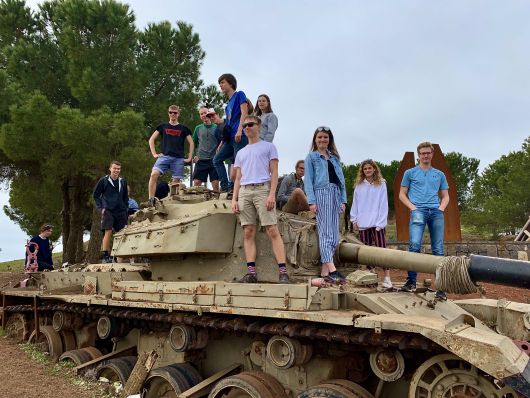 Friday marked the beginning of our trip to Jordan. Once we all successfully got through the border, we met our half-german speaking tour guide Awni. We went to Jerash. Sadly, it started to pour rain, so we quickly went through the historical site and then headed to Amman, where we cancelled the rest of our day.
On Saturday we went to Mount Nebo, which offered incredible views of the Holy land. Then we were off to Kerak castle, the biggest crusader monument in Jordan. We had a quick tour and then went with a local guide to the Dana Biosphere Reserve. The guide sat us on a small platform and made some (really good!) tea. That night we stayed at Dana in a small hotel. In the evening, we checked in for our flight back to Prague and then played some games with Mr. Fajfr.
Sunday was pretty much all about Petra. We stayed there for almost six hours and it was just about enough. Some of us could probably use a bit more time. After lunch it was time for us to go to the Wadi Rum desert to the bedouins. It was so beautiful there! Some people got henna, we drank herb tea from little shot-like glasses and some of us went to the observatory.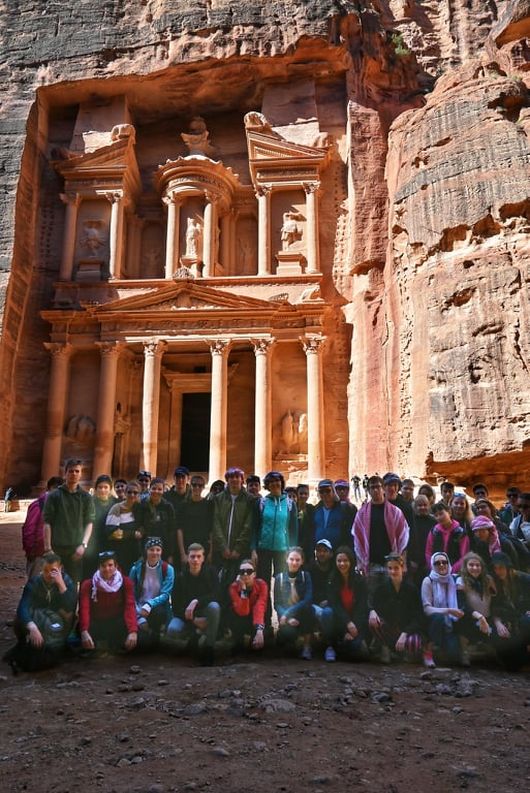 And so came Monday, our last day. At about 6 a.m. a few people climbed a small cliff to watch the sunrise. We packed our bags and after another change of plan we went for a two hour jeep ride through the desert. Then it was time to go cross the Israeli-Jordanian border and go to the Eilat airport. If only it were that easy. Because of our visit to Bethlehem, Israel wouldn't let us cross - there was a new ban regarding the coronavirus. We ended up stranded in "no man's land" between the two countries for almost two hours. While we were waiting for a final verdict, Mr.B and many many other people did all they could to get us home. And it was worth it. At 16:58 we crossed the last gate at the border. We were on our way home.

Autor: Alice Suchánková
---
---
Vyhledávání
Poslední články
Akce a dění
Doplatek zájezdu na Korsiku
Jak jsme již avizovali, zájezd na Korsiku byl přeložen na termín 5.-13.9. Pokud bude situace stále příznivá, je pravděpodobné, že se v daném termínu uskuteční. Prosíme tedy o doplatek na nadační účet do konce června. Pod svým VS, který vám byl již přidělen, posílejte doplatek 9 600 Kč. Pokud máte dotazy, kontaktujte mě nebo prof. Bártovou.
VoBaFo 2020
Letošní turnaj VoBaFo je zrušen. Vaše přihlášky zůstávají v platnosti. Skupiny též platí. Doplníme je o další zájemce. Zejména z řad prvních ročníků. Bohužel přijdeme o "Souboj Titánů" turnaje 6.A a 4.E, do kterého v minulém ročníku promluvila 3.E. Těším se na vás a maturantům hodně zdaru u maturity i u přijímací zkoušky na VŠ přeje P.E.
KMD
Vážení divadelníci, jak jsem Vás již informovala, letošní sezona skončila, a proto Vám budu vracet peníze za představení, která jste nezhlédli. Maturantům budu vracet peníze během maturitního týdne (11.6.-17.6.) , ostatním studentům pravděpodobně na začátku nového školního roku. Novou sezonu začneme také až v září. Těšme se na nová divadelní představení. N. Brousilová
Morava pro 5.ABC
Naše výprava "Za Lovci mamutů" byla v termínu 27.5. - 31.5. 2020 zrušena. Když bude zájem, můžeme jet na podzim. Více po návratu do školy. V případě zrušení akce budou peníze vráceny. Případně pište, volejte:-) Držte se P.E.
11.5. knihovna otevřena
Dne 11.5. bude knihovna otevřena ráno mezi 9.00 a 11.00. Pokud máte zájem o výpůjčky, napište mi předem, knihy vám připravím. Knihovník.
Online exkurze na Jaderce
Fakulta jaderná a fyzikálně inženýrská ČVUT v Praze (FJFI) nabízí možnost online navštívit termojaderný fúzní reaktor - tokamak Golem, který provozuje. Průvodcem bude Vojtěch Svoboda z katedry fyziky FJFI, který je hlavním vedoucím tohoto zařízení. Online návštěva s přednáškou se uskuteční už tento čtvrtek 23. dubna 2020 od 10.00 hodin na Facebooku Jaderky. FJFI chystá také další videopřenosy - z těch nejbližších to bude představení štěpného jaderného reaktoru VR-1 Vrabec a laboratoří katedry jaderné chemie.
Zájezd na Korsiku se odkládá
Zájezd na Korsiku, který se měl uskutečnit v červnu, se samozřejmě odkládá. Pokud by to situace umožnila, posunul by se na září. Pokud ne, byl by zrušen a zálohy vráceny.
SOČ 2020
Studenti, kteří by se chtěli letos účastnit soutěže SOČ - nechť komunikují s paní Sobkovou: sobkova@ddmpraha.cz. Předpokládejte, že jste ze školního kola postoupili v dané kategorii z 1. místa. Pokud budete potřebovat moji pomoc, kontaktujte mě nejlépe telefonicky, všichni máte moje číslo. Helena Vondráčková
LYŽAŘSKÝ KURZ ZRUŠEN
V souladu s nařízením Vlády ČR je lyžařský kurz tříd 2.E a 2.F v termínu 28.3. - 4.4. zrušen. Bude-li to možné, bude se kurz konat v náhradním termínu v příštím školním roce. Z.Ordoš Nedvědová
Pro maturanty - certifikáty
Vzhledem k tomu, že škola bude od středy 11. 3. 2020 úplně uzavřena, přineste žádosti o nahrazení maturitní zkoušky certifikátem až po skončení tohoto karanténního opatření. Plháková
Ztráta flešky
Minulý čtvrtek jsem zřejmě nechal v počítači zasunutou flešku s pro mne důležitými daty. Malá, černá. Nenašel někdo? Díky za pomoc.
KMD
Vážení divadelníci, je zveřejněna poslední nabídka divadelních představení v tomto školním roce. Vstupenky si můžete objednávat od 3.3. - 10. 3. 2020. N. Brousilová, kab.č. 208